Introduction
Edit
Frequency generators are used with Rife and Clark devices to produce the desired output. Software generators are usually much cheaper than hardware ones.
Software generators
Edit
iFunction Generator
Edit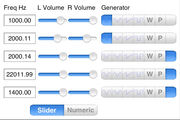 iFunctionGenerator from
Black Cat Systems
is a cheap application for the iPhone or iPod Touch. From the publisher:
iFunGen turns your iPhone or iPod Touch into an audio function generator. You can have up to five generators, each operating at a different frequency. Each generator can be one of the following types: Sine Wave, Triangle Wave, Sawtooth Wave, Square Wave, White Noise, Pink Noise. Enter in the frequency for each generator, and select the generator type. The blank generator type turns off that generator, if you don't wish to use it. The left and right volumes may be independently set using sliders, or the volume (as a percentage ranging from 0 to 100) may be directly entered in, depending on whether Slider or Numeric is selected.
User reviews
Edit
This seems to work well, especially for a 99-cent app. You can check the output using the spectrum analyser function (Menu > Analyze > Plot spectrum) in Audacity. Illustrated is a 1000 Hz sine wave. The publisher's illustrations shows a 22011 Hz input, but the blurb says it only goes up to 20 Hz. In practice, it seems that 21000 Hz works and 22500 doesn't. As for how effective it is to use various audio frequencies like this, that is another question entirely. this review is about the ease of use of the software program.
Zapperguy 18:34, September 29, 2011 (UTC)
Tone Generator Pro
Edit
Another iTunes app store program for 99 cents.
Rife Generator 3.4
Edit
Publisher's description: This Program can generate signals in accordance with the theories of the researcher Royal Rife for use as a Rife Device. Features: Uses standard sound card; Generates frequencies 20Hz-22kHz (sine/square/triangle); Pulsed signals with variable duty cycle 1-99%; Extensive scripting capabilities (Macros) ; Preset storage and recall; Change frequencies directly by keyboard, mouse button or slider; Multi sound card support.
There is a 10-day free trial shareware version. the script functions come in the paid version, but seem to allow a very involved program including all the tweaking one could want, including sweeps of frequencies.
Hardware generators
Edit